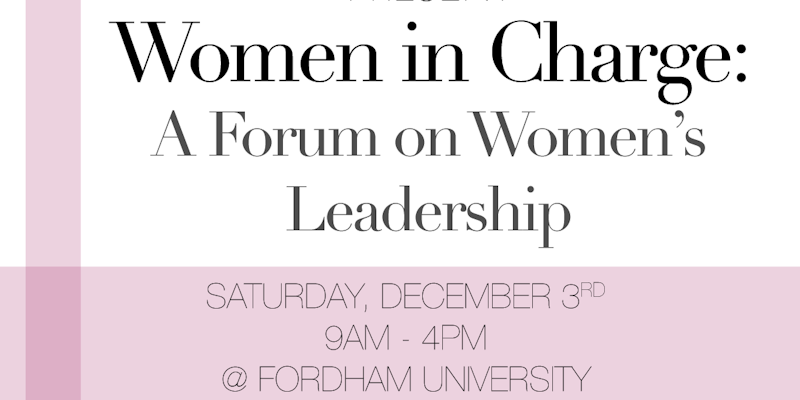 Women in Charge: A Forum on Women's Leadership
by One Girl, Inc and Fordham's Institute for Women and Girl
Women in Charge: A Forum on Women's Leadership
Sat, December 3, 2016, 9:00 AM – 4:00 PM EST
Event Information
Location

Pope Auditorium At Fordham University Lincoln Center
113 W 60th Street
New York, New York 10023

Description
Too often, young women are stuck at the margins. While they may be incredibly talented, there are too many barriers preventing them from accomplishing their goals. When there is a lack of resources to develop skills and not enough stakeholders to invest in women's work, we're left with an ever-widening gap that keeps women at the margins. Fortunately, that ends now.
Join us for Women in Charge: A Forum on Women's Leadership! By attending our premiere conference, you will have access to advice, stories, and tips from women in professional leadership positions. We will feature several panel discussions to cater to your goals in life: STEM, Business & Entrepreneurship, Sexual Health & Reproductive Justice, Yoga & Meditation, and Beauty & Body Image. All of our panelists have great insight and experiences to share with you on their climb up the professional ladder. If you envision yourself in any of these roles, or simply need inspiration and motivation to put your dreams to work, One Girl, Inc. welcomes you for a day of discussion, empowerment, and unity!
The "Women in Beauty" panel is sponsored by The Zinniah Foundation, Inc. Trailblazers in the beauty industry will offer their expertise, mobilize youth, and provoke confidence through cosmetics and beauty.